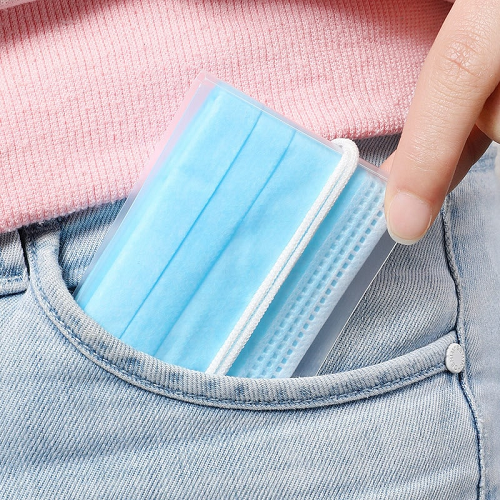 Don't you know where to put it when you go out to remove the mask? Mask temporary folder perfectly solves this problem. Reduce contact and reject secondary pollution. Ultra-thin, compact and portable, easy to store outdoors.

Details:

Compact Reusable Mask Storage Holder allows you to store and retrieve your face mask with ease and prevent cross contamination from dirty surfaces!
Easy to use in 3 easy steps - simply place your mask into the holder, fold over then fasten with mask straps.
Washable and reusable face mask case.
Compatible with standard disposable surgical mask and most regular sized reusable face masks. Simply fold down cloth masks to fit into holder!
Compact, lightweight and portable.
Flexible material allows this compact mask holder to fit comfortably in your pockets, purses and handbags.
Prevents the spread of germs during COVID-19 or any pandemic!
specification:
Made of durable PP plastic.
10 pieces per order.
Measure 2.36" x 3.35" / 6.5cm x 8.5cm when folded
Package Includes  :
10 PCS* Portable Mask Storage Clip