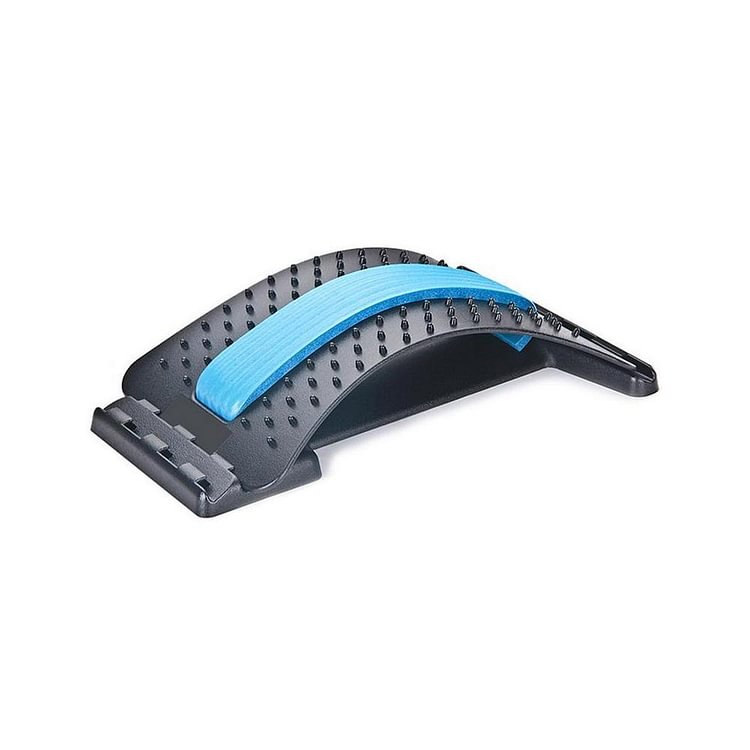 Having backpain all the time? Eliminate that in just 5-10 minutes a day!
With only 5 to 10 minutes per day, our customers have manifested severe back pain relief after 2 weeks of proper use. The ProperSpine™ Back Stretcher uses stretching and acupuncture therapy to relieve all forms of back pain by decompressing the vertebrae and improving blood flow through the spine.

We also know that paying a chiropractor is expensive, this is why ProperSpine™ was designed to be your personal back pain reliever device that will help you heal Chronic back pain, Muscle stiffness, Sciatic pain and even develop a better posture, all from the comfort of your home.

HOW CAN PROPERSPINE HELP ME?
ProperSpine™ is a small lightweight multi level stretching device that allows you to stretch out your back, and relieve muscle tension. With constant use, the device:
✅RELIEVES LOWER BACK PAIN
✅RELIEVES MUSCLE STIFFNESS
✅RESTORES NATURAL CURVATURE
✅DECOMPRESSES THE SPINE
✅IMPROVES STRENGTH AND FLEXIBILITY
✅RELIEVES SCIATIC NERVE PAIN
✅CORRECTS YOUR POSTURE
✅PORTABLE AND EASY TO USE

WHAT RESULTS CAN I EXPECT?
Instant Results: After a single session you will notice incredible improvements and relief of your back pain for the entire day.
Long Term Fix: On average, our customers have manifested significant improvements after 3 to 5 days of constant and proper use and absolute relief after 2 weeks of use.
Confidence & Posture: It is designed to sync with your spine's natural curvature and be comfortable enough for you to relax and stretch passively. We guarantee you will be walking taller and more confident with a better posture.

HOW DOES IT WORK?
Back pain arises when there is decreased space between the intervertebral discs, which causes issues such as decreased blood flow and pinched nerves. Stretching your back is a simple way to improve the health of your spine and release muscle stiffness. By increasing circulation and lengthening the spine, ProperSpine™ Back Stretcher helps to relieve your back pain.
ProperSpine™ is a flexible device that will allow you to set up three different stretch levels. When lying down, gravity allows the front of your body to effortlessly stretch out and upwards. The surrounding muscles start to relax, gently decompressing the discs in your vertebrae, realigning the spine, relieving tension and pain. You'll be amazed how good it feels!

HOW TO USE IT?
We recommend to use ProperSpine™ between 5 to 10 minutes twice a day in order to achieve better results. Below you find a step by step guide to set up properly your Back Stretcher:
Place the base and the arch on a flat surface with the end of the base facing towards you.
Get on your knees to stabilize the base and adjust the wider side of the arch at the end of the base.
Press with your knees the end of the base, and apply some force to bend the arch.
Finally adjust the arch to the level you want and lay on top of it to start stretching your back.
WHO IS IT FOR?
If you sit at the computer often, lift heavy items regularly, suffer back injuries, or simply suffer from chronic back pain then the ProperSpine™ Back Stretcher is perfect for you.
ProperSpine™ was specially designed to be your own personal back stretching device that can be used from the comfort of your home, at any time, and for a very low price compared to expensive chiropractic sessions. It´s the perfect solution for anyone looking for long term back pain relief.