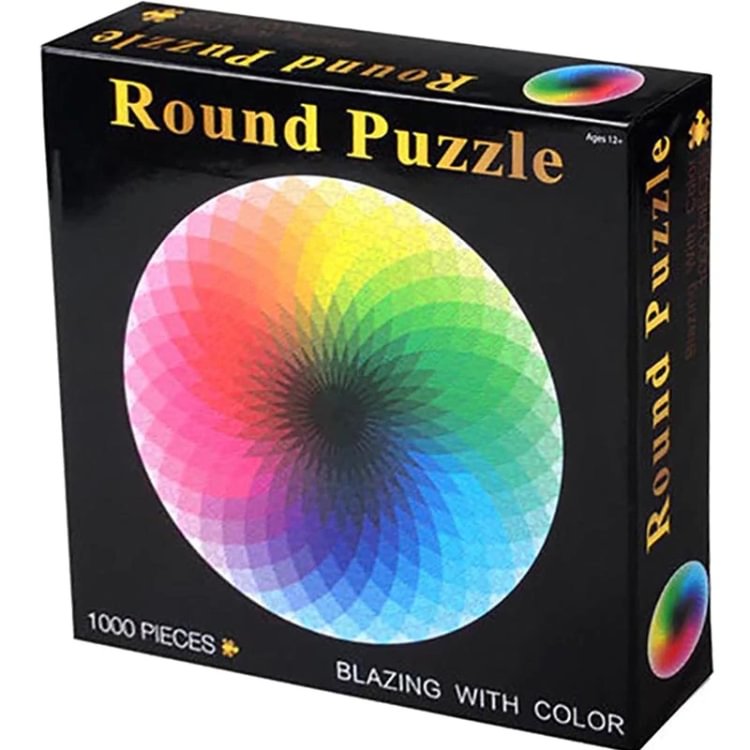 Put this rainbow palette round jigsaw puzzles into your gift box now. This rainbow circle jigsaw puzzles in 1000 durable E-Z mosaic pieces, entertaining the entire family and provide hours of fun and joy piecing this incredible rainbow together. These round shape pieces jigsaw puzzles are suitable for all ages, it is a new and fast way to help kids learn colors, shapes, and other things. An ideal kill time and entertainment gift to friends, parents, and kids.
The improved difficulty, 1000 puzzle pieces, is interesting and challenging. Beautiful pattern, after finishing the puzzle, which makes it a great decoration. Colorful and the color changes more beautiful than the rainbow.


Develop Intelligence - It helps to cultivate children's cognition on color and shape, develop children's patience and concentration. The puzzle can effectively inspire people's thinking, train thinking, judgment, and develop patience.

Relax Funny Game - Its function is to beautify the home and improve the taste of life. Because it can relax participants, the puzzle is also considered a casual game. Easy way to complete The back is printed with numbers to allow you to complete the puzzle, and it is also handy to the check-in time for any missing puzzles.

Paper Material Safe - Made of high-quality cardboard which ensures durability. An exquisite eco-friendly water-based paint is used for inkjet printing. The color is beautiful and resistant. No discoloration, no other harmful substances.

Manual When building, be careful to avoid losing small pieces. When building a puzzle, you can sort each puzzle piece by the reverse letter sequence. First make the four sides of the picture, then press the front part of the puzzle to assemble the small pieces of the same sequence of letters, then combine the pieces together to make a complete puzzle.
Benefits Of 1000 Piece Jigsaw Puzzle Toy For Adults and Kids 
The puzzle exercises the left and right sides of your brain at once

It improves your short-term memory and your visual-spatial reasoning

The puzzles are a great meditation tool and stress reliever

Jigsaw puzzles are a great way to connect with your family

If you need some alone time or would like to concentrate, The Puzzle is the way to go.

You'll live longer if you puzzle regularly!
How Long Does It Take To Do Jigsaw Puzzle:
On average, you could expect it to take anywhere between 3 to 10 hours, depending on the type of the puzzle, among other factors.