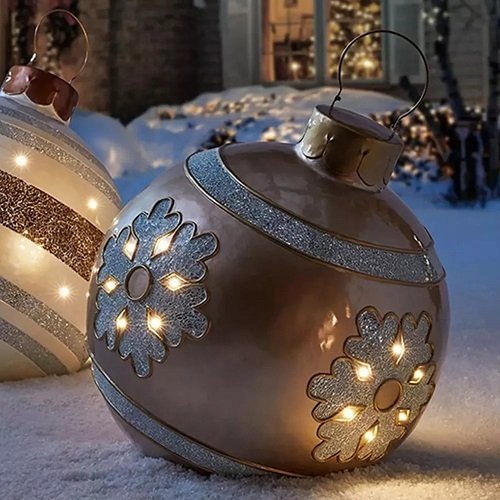 When it comes to outdoor holiday decorations, bigger ones always feel more satisfying, which is why you need to look at these huge Christmas PVC inflatable decoration balls.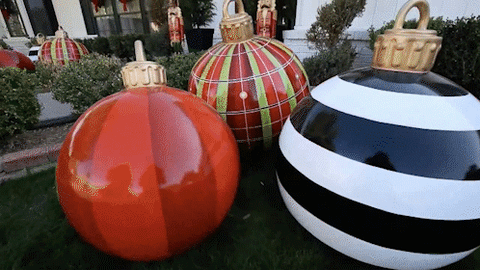 These huge decorative outdoor ornaments look fun and festive during the day, but create a spectacular display of Giant Ornaments at night.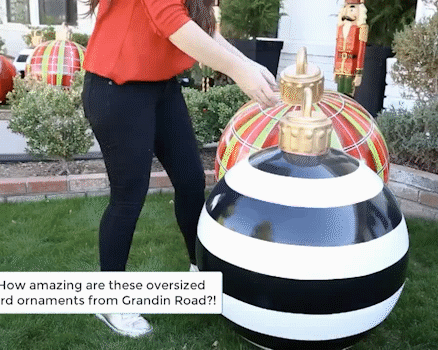 About This Item:
This decorated ball will display your Christmas decoration by creating an attractive focal point in your yard or porch.

High-quality indoor/outdoor oversized Christmas decoration.

The diameter is 60 cm.

There are 11 different styles to choose from.

Weather-resistant resin with brightly painted finishes and realistic details.
Features:
1. Large Christmas Ornaments Balls Outdoor - The Christmas inflatable Balloon are made of sturdy PVC material. Waterproof and weather resistant. Held up very well outside in rain and snow. They didn't blow away, fall apart, or break easily.
2. Exquisite Appearance - Good material makes the surface smooth and bright, showing mirror-like reflection effect, bright color. Each balloon has a strong, bright, rich and charming color, no electronic light.
3. How To Use - You need to use a pump to inflate the balloon to decorate your home or garden, or you can hang it on the front door or window. Decorations are available at any time without assembly, which is convenient for you.
4. Huge Christmas Inflatable Ball Ornaments - The Outdoor Christmas Inflatable Decorated Ball diameter is 23.6 inches. Huge Christmas Inflatable Ball ornaments and there have printing on the ball. This decorated ball will brighten up your Christmas decor by creating an attractive focal point in your yard or porch.
Package Includes:
1*Christmas Decorated Ball