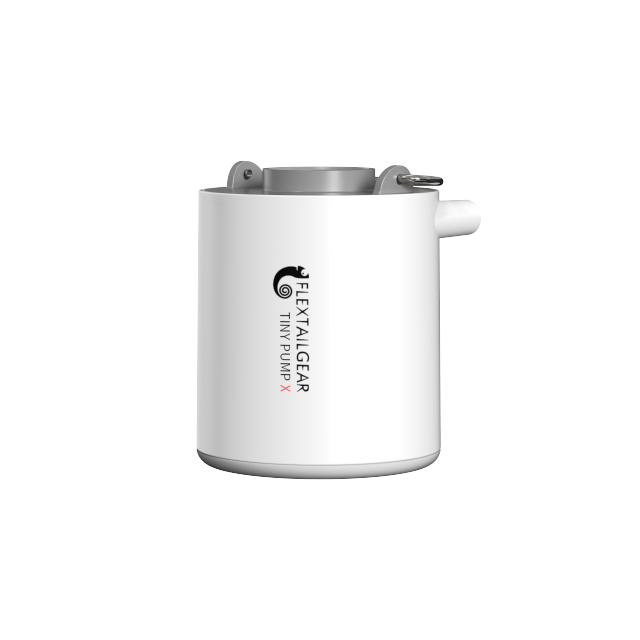 Powerful In & Deflation

Powerful 3.5 kPa air pressure and fast 180L/min wind speed make air pump fast inflation & deflation. Able to inflate 4-5 swim rings, 6-8 single camping air mattresses. 
One-button operation, widely used for outdoor camping, hiking, beach....
Super Small Size
With its ultra portable design, TINY PUMP X is only 89g and the size is as small as a key. It is suitable for most of the context in your life and you could take it with you anywhere at any time.
Every Night With TINY PUMP X 
The biggest advancement is that TINY PUMP X comes with an ultra-bright lantern with a brightness of 40lm to up to 400 lm. It has 3 levels of lighting. With up to 10 hours of battery life, TINY PUMP X provides you more convenience both in your outdoor and daily life.
Long Lasting
Powered by a rechargeable 1300mAh lithium-ion battery, one charge lasts long enough to inflate more than 10 single air mattress, or vacuum more than 20 large vacuum bags, or last up to 10 hours of illumination.
Air Pump for All Your Inflatables 
The flow rate of TINY PUMP X can reach 180L/min and the pressure can reach 3.5KPa. It is the perfect tool to bring along when going to the beach in summer; it can quickly inflate your swimming tube, air mattress, and any other inflatables
Vacuum Pump for Saving More Than 50% Space
TINY PUMP X is not limited to outdoor use, but also perfect for household use. It could work with vacuum bag to store spare comforter and out of season clothes. Turn on the deflation switch, it will suck up all the excess air within the vacuum bag quickly.
Specifications
Size: 43 x 43 x 53 mm
Weight: 89g
Power: 13.5g
Waterproof: No
Mobile Charging: No
Filling Speed: 180L/min
Battery Capacity: 1300mAh
Inflation Pressure: 3.5 Kpa
Exhaustion Pressure: 3 Kpa
Compression Rate: 50%
Color Temp: 4500k White
Lumen/Life Time:
40 Lm - 10 hours

160 Lm - 25 hours

400 Lm - 1 hour
Package Content: