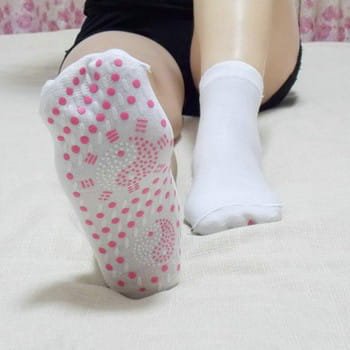 Relieve Pain And Stress With Magnetic Therapy!
Features:
Made of high-quality polyester cotton with the characteristics of soft and comfortable, has a long service life.

The bottom of socks has Tourmaline design that can self-heat to warm and relax your feet in cold weather.

Tourmaline socks relieve leg fatigue, pain, regulate the nervous system, self-heating, remove moisture and stop odor, remove swelling of the legs and peeling skin, produce a static foot massage, regulate blood flow.
The perfect tool for legs with varicose veins, as well as in kidney failure.

Good therapy for the ankles and feet when freezing.

Great for outdoor activities: skiing, snowboarding, hiking, hockey, and other sports.
Specifications:
Material: Tourmaline, Polyester cotton

Weight: 40g

Colors: White, Red, Black

Type: Tourmaline socks

Effect: Anti-fatigue

Massage Socks: Healthcare Socks

Tourmaline Massage Sock: self-heating Socks
Package Included:
1 pair of socks