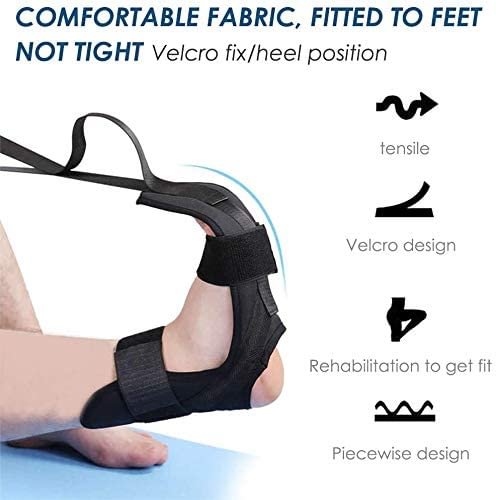 This unique stretching aid assists in the treatment of plantar fasciitis, Achilles tendinitis, heel spurs, calf, thigh, hip, and lower back strains. Works great even for users with a limited range of motion.

The unique design alleviates stress on the heel, permits relaxed breathing, and affords superior dorsiflexion of the toes. It's ideal for people with limited flexibility or range of motion. Made of a comfortable poly laminate and webbing, this unique stretching aid features multiple strap loops for personal control of each stretch.
About this item:
Alleviate pain effectively: The foot and calf stretcher helps improve blood circulation by stretching the plantar fascia and leg muscles, so as to relieves pain from plantar fasciitis, Achilles tendonitis, muscle tension and ankle injuries.

Promote physical fitness: Stretching aids to the strength and flexibility for foot, heel, hamstring, thigh, calf and lower back by using the foot and calf stretcher. By doing this, you can also prevent muscle tension and strains caused by exercise, yoga, Pilates and other physical activities.
Ergonomic & comfortable cradle design: Plantar Fasciitis support strap made of a durable nylon laminate and a six-loop rugged webbing. It can be applied to two orientations to accommodate different stretching position, stretching the arch of foot, quadriceps etc.

Multi-purpose & Easy-to-use: This leg stretching strap is an ideal on-the-go stretcher for athletes, dancers, physical therapists and the recovered patients. With the instruction manual, it's more readable even for the beginner to use in physical therapy.
Portable & user-friendly: It comes with a handy carrying pouch for the foot stretching aid. You can either take stretch strap to Gym and even workout or use it at office, at home, outdoor or during the long-distance journey wherever you go.
Specifications:

Material:Polyester
Size:110cm
Color:black
Package Includes: 
1PC * Safely Stretching Training Strap