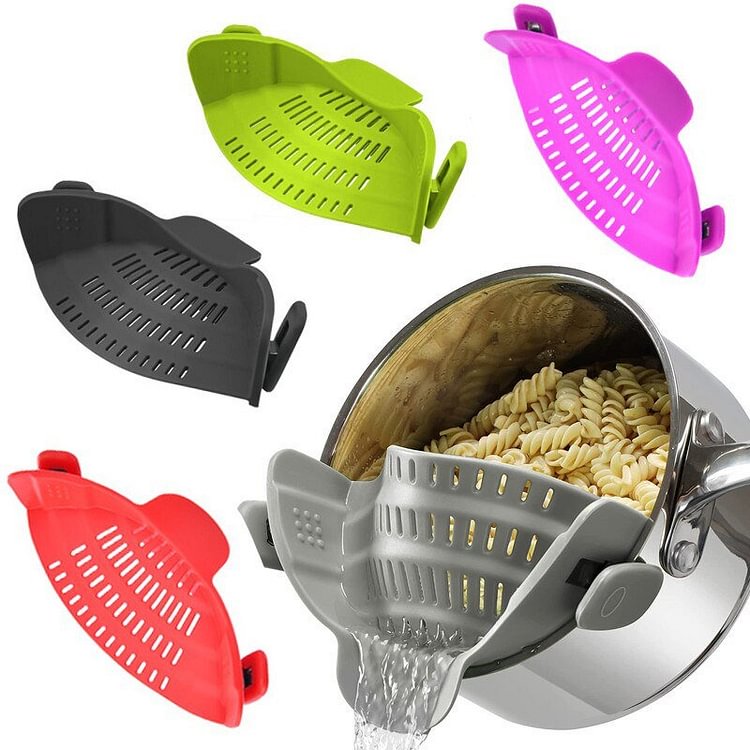 No more wasting pasta, rice, or whatever you need drained!
Tired of spilling food all over your kitchen sink when you drain it??
Make straining food quick and effortless with this clip-on pot strainer. It can be easily attached to pots or bowls, eliminating the need of transferring food to another pot, thus save your time and free your hands.
About this item
【Perfect Food Strainer】 Easily attach strainer to pot with two sturdy clips. clip-on strainer will keep the food in the pot throughout the straining process, eliminating the hassle of transferring food between strainer and pot.

【Universal Design】 The specially designed clips will fit nearly all round pots, pans, and big and small bowls (including lipped bowls).

【Easy To Use】 Easily strain and drain any liquid from spaghetti, pasta, ground beef, fish, fruits, vegetables and other foods.

【Space Saving】 Compact and flexible food strainer that is easy to use and store in a quarter the size of the traditional colander, saving cabinet and counter space.

【Durable & Heat Resistant】 Silicone strainer clip on are made of safe and non-toxic silicone, BPA Free, Dishwasher safe. Silicone Food Strainer is resistant to high temperatures.
How To Use:
Simply secure this strainer with the clips to the inside of your pots, pans or bowls, and pour. The silicone strainer will hold back the food while the liquid drains and pours out the spout.
Package Includes:1*Silicone Clip on Pot Strainer