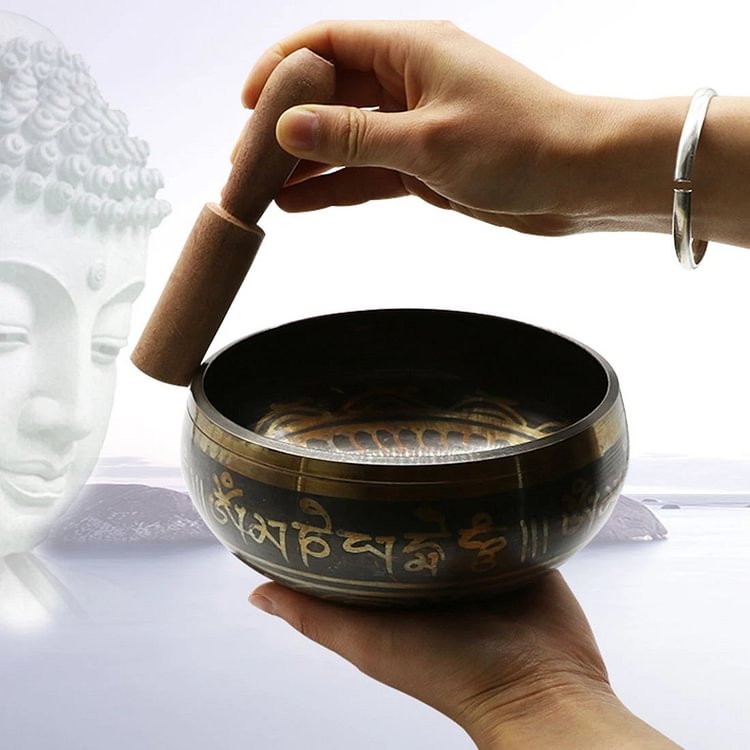 Get in Touch with Your Spiritual Side with a Relaxing Singing Bowl
All our singing bowls are hand crafted locally in Nepal. Crafted traditionally with 7 metals, these bowls are consistent and very easy to use and offer beautiful frequencies when played in rotation and struck. Every bowl is engraved with an amazing hand written mantra. Each bowl is individually checked for standard and predominant note range consistent with rotational use. Bowls include a wooden hammer as pictured.
Reported Benefits: 
Reduce stress and anxiety significantly 

Practice deep meditation as more alpha brain waves are produced

Dramatically improve sleep quality

Promote mindfulness, happiness and well-being

Lower anger and blood pressure

Improve circulation and increases blood flow

Deep relaxation and pain relief

Chakra balancing

Increase mental and emotional clarity

Great conversation starter
So how does this work?
When struck, Tibetan Singing Bowls create a range of sounds in alpha wave frequency (8-12hz) otherwise known as the Sanskrit mantra "OM", which invoke a deep state of relaxation which naturally assists in meditation, the pathway to enlightenment in Tibetan Buddhist cultures. Tibetan Singing Bowls have been used for approximately 2,500 yearsto stimulate alpha brainwavesfor wellness, relaxation, chakra balance,alternative medicine, mindfulness and meditation purposes. 
How can you actually use this?
Tibetan Singing bowls were traditionally used to start meditation rituals. Their alternate purpose is to restore vibratory frequencies of the body and mind. The sounds they emit work as a type of energy medicine that has been known to balance chakras, heal pain, depression, and stress. Nowadays the bowls are also used for yoga, reiki and deep relaxation/stress relief reasons.
The best part?
We at 6 Lynx are simply tired of other sellers charging ridiculous prices for these amazing healing antiques. Our bowls are priced much lower than other stores and produce the same deep soothing sounds. The Larger, heavier bowls (11cm or more) will produce more resonating rich mantra note due to their density and diameter. You will reach a deep meditative state quicker and return much more relaxed.
Bowls under 10cm are good for the upper chakras. 
Bowls above 10cm are good for all round Chakra healing and meditation. Very portable and produces beautiful resonating sounds. We suggest getting the 11cm or larger.
Inventory: Limited quantity. We sell out often. Please consider getting two or more. Get one for yourself or your friends/family who practice meditation, yoga, holistic sound healing.
Product Features: 
1. The bowls sing very easily and produces rich, harmonic and soothing sound that lasts for long duration.
2. These singing bowls have been used for meditation, relaxation, holisticwellbeing, healing energy and chakra balance for centuries.
3. Singing bowls are used in health care by psychotherapists, massage therapists, cancer, and stress and meditation specialists.
Specifications:

Item: Tibetan Singing Bowl
Inner Diameter: 8cm/ 9cm/ 9.5cm/ 10.5cm/12.5cm/14.5cm/18cm

Material: Metal Bowl + Wooden hammer

Theme: Buddhism, Meditation, Mindfulness, Wellness, Chakra
Regional Origin: Kathmandu, Nepal   
Package Includes:
1x Singing Bowl, 

1x Hand Hammer