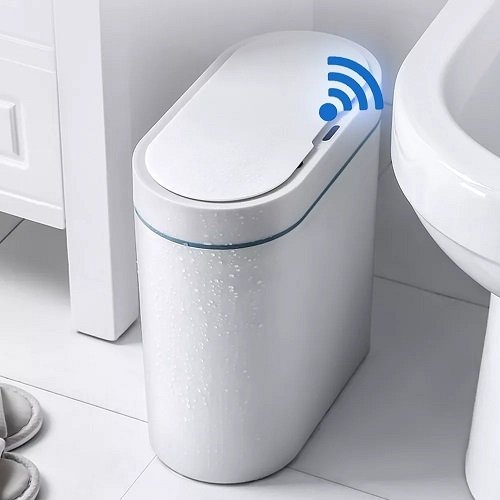 Make The Most Of The Small Space
Make your bathroom, kitchen or living room much more elegant and hygienic. The Smart Sensor Trash Can has a cotton filter that totally eliminates bad smells, in addition to being elegant, waterproof, light and easy to handle. With the proximity sensor, you can open the lid without the need to touch, being able to throw the trash without having contact with the trash, after 5 seconds the lid closes automatically, avoiding exposure to any type of bacteria. Without a doubt, it is indispensable in any home.
The Automatic Smart Sensor Trash Can is an elegant trash can, which is not only practical for daily use, but also has an infrared sensor to open the lid automatically. It's made of waterproof material and has a cotton filter inside to avoid any type of smell. The trash can fits anywhere in your home because you can place it on the desk or on the floor of your bathroom or kitchen. 
Your Automatic Smart Sensor Trash Can perfectly combines performance, efficiency, and style for your home. When the trashcan is installed in the kitchen, clean up at the end of the day couldn't be easier -- simply move real trash into the trashcan. The auto open lid will lift automatically to prevent pets or kids from getting trapped inside. If food residue or any other trash is detected inside of the garbage can, this trash can will automatically close. You can also adjust the sensitivity of the sensor to accommodate different conditions at any time.
Our smart sensor trash can with smart sensor is the convenience product on the market, easy for you to use. The smart trash can is a new generation product that comes with advantages of energy saving, child protection, safety and environment protect. One of the most annoying things is manually open trash bins full of bacteria, With this little helper, smart trash can 13 gallon, the trash can's hassle will go away immediately. It is also the best choice for the ecologic and healthy family.
 Features:
The

smart trash can has g

ood sealing performance, no peculiar smell, waterproof.
Our

smart sensor trash can features a b

arrel oval design, beautiful and fashionable shape.
This

tow new trash can has 

Intelligent induction, the lid opens automatically by bending the knee or waving.
Suitable for many scenarios, such as bedroom, bathroom, kitchen, living room, etc.
The 

smart trash can tow new

 built-in space is large, and there is a storage place for garbage bags in the bucket.
Specification:
Material: Ecologically sustainable polypropylene

 

Can be washed normally

Only 1 normal battery is required, lasting at least 4 months

Battery AA*2 is required (not included in the shipment)
Size: 30x30x15cm/11.81x11.81x5.9inch
Package Includes:
1x Piece Trash Can