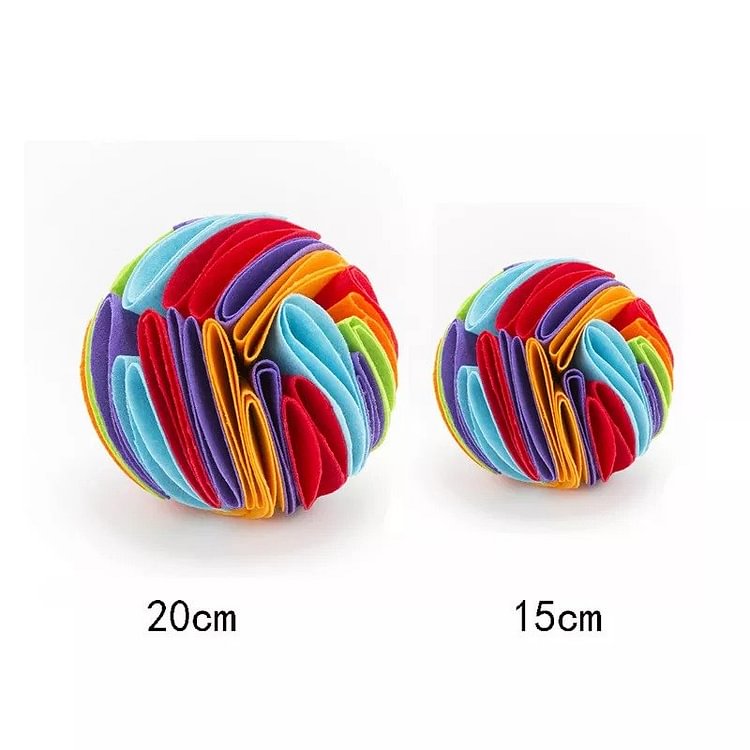 Perfect combination for tug, chewing and shaking that puppies can get more fun.
Designed tighter weaves with hundreds of fibers and made of natural material to be more durable and bite-resistant for playing longer. Our Snuggle Puzzle Ball is the perfect way to stimulate your dog, reduce boredom and improve their concentration and problem solving skills. 
Hide treats within the many folds of the toy to be sniffed out. Difficulty can be increased in stages, starting from the edge and working your way further into the center. A great mental and physical exercise to keep your dog happy and healthy. 


There are many nooks and crannies for your dog to sniff around it, stimulating their most powerful sense! They will get a sense of achievement and reward when they discover the hidden treats.
The ball is available in two sizes and many bright color combinations and simply folds up for easy storage.
Features:
Smell ball main fabric for environmental protection carpet cloth, soft close skin, easy to clean environmental protection, support machine wash.

The smell and the ball is a traditional sniffing of the updated version of the mat, the dog is more difficult to get food. Therefore, the dog by sniffing the ball for the first time, puts food on the edge of the easy to find, when dogs already know hiding food in it, and you can put the food on the inside of the ball, a modest increase in dog feeding difficulty.
Smell the ball is made from many folding rounds, with many deep Tibet now, the owner can hide food in between the fabric drape, encourage your pet to sniff out them.

Feeding difficulty strengthen, the dog according to smell looking for a food source, ate and play ball.

Storage is simple, small size, the smaller spheres, food is more hidden, the greater the difficulty, is a great enrichment toy.
Product Information:
Style: Europe and America

Material: Polar Fleece Fabric
Size Information:
Product size:
Size S: 15 X 15 cm

Size L: 20 X 20 cm

Package size:

Size S: 20 x 20 x 2.5 cm

Size L: 25 x 25 x 3.5 cm
Package Content:
Snuffle Ball x 1