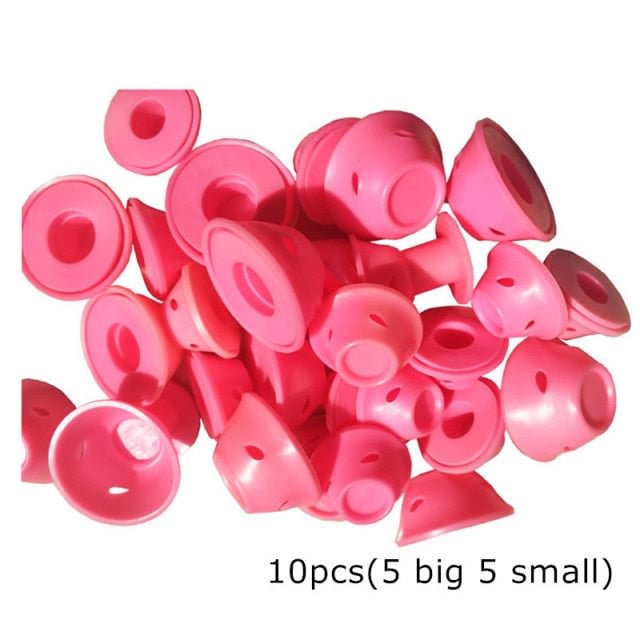 Styling your hair with can be a hassle and even damaging to your hair. Traditional methods like using heat or chemicals may have terrible side effects that may resulting in you having to cut your hair.
Whether for work, dates or parties, our curlers give beautiful natural-looking curls without any heat or damage.
Features:
BEAUTIFUL CURL DEFINITION: Our curlers achieve beautiful and bouncy curls, from beach waves to pin curls naturally without using heat or the risk of hair damage.
SAVE HOURS ON YOUR USUAL ROUTINE: Forgot about date night? Simply apply our curlers to semi dried hair and curls begin to form within 30 minutes, saving hours from your usual prep time.
NO PINS, CLIPS OR HEAT: Our curlers are great for home use or when traveling. No pins, clips, or heat required. Simply press and pop open the curler, roll your hair as desired and then press closed. SUPER SOFT: Unlike perm rods or ex rods. Our curlers are made from super soft medical-grade soft silicone that are very comfortable to sleep on without coming apart and ruining the style.
How to use it:
After hair washing, dry your hair with a towel until there is no water drop.

Open the hair curlers, roll the hair you want and close it, please adjust the position to make sure it can grasp and cove your hair.

Keep it 30 minutes to 1 hour, then remove the hair care roller, natural wave hair getting! Using a hair dryer or hairspray will be better.
Q&A:
Can short hair be used?
This product is suitable for all lengths of hair.
How many sets do I need

?
If you have less hair, one set is enough. If it shines more, 2-3 sets are recommended.
How long can the curl effect last?
Each person's hair quality and roll-up time are different, the maintenance time will be different, the longer the volume is, the better the effect, you can use the product with elastic hair when the hair is 7-8 dry, which can lengthen the curl Maintenance time
Specifications:
Material: high quality medical-grade soft silicone.
Color: Pink/Blue
Big roller size: 2.3cm (inner diameter), 5cm (outer diameter)
Small roller size: 1.8cm (inner diameter), 3.9cm (outer diameter)