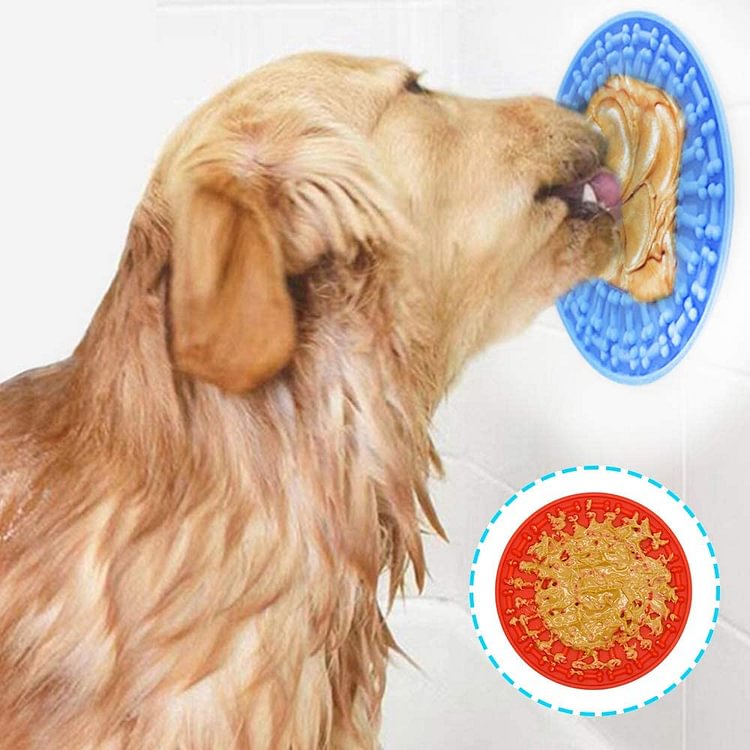 Is bath time a nightmare for your dog? Don't worry, as this lick pad will keep your dog calm and let you bathe him within minutes. It's usual for dogs and other pets to resist cleaning, and whatever tricks you follow prove futile. So, why not try this pet lick mat that can make dog bathing easy and cost-effective.

What you will get:
Makes dog busy in eating: It's often difficult for us to bathe our dog, for it's natural for the animal to resist any action that restricts their movement. With this serving pad, your dog will be busy eating the stuff while you shower him well.

Powerful suction cups: On the back of this lick pad are powerful suction cups that keep it stuck to the wall, forcing the dog to eat the stuff with his neck kept up.

Slow food design: The raised edges and bone-like designs within the pad make it difficult for the dog to eat hurriedly, allowing him/her to eat for a longer time.  

Easy to clean: Clean it either in a dishwasher or hand wash with hot soapy water.
Key Benefits:
High Quality Durable Silicone - The dog lick pad is made of food-grade pure silicone material, strong flexibility, never deformed.

Super Strong Suction - Dog lick mat backside with powerful suction cups that help hold in place on smooth, clean surfaces. Dog lick pad can hold more than 13 lb. (6 kg.) and suction cup will stay stuck on any smooth surface for up to 24 hours.

Slow Feeder for Dog - Unique plate design slow down pet's eating speed effectively, prolonging meal time,which reduces bloating and improving digestion,promote the physical and mental health of pets.
Enjoyable Bathing - Does your dog hate bath time? Dog lick mat can help! Save yourself time and aggravation. This lick pad reduces the stress on you and your dog. Simply spread peanut butter along the lick pad of the distraction device. Use it during pet grooming or any other time you need to calm your dog.

Best Gift - This Dog Puzzle Toys is the perfect gift for every pet lover! Dogs and cats like to lick the surface of this calm pad, and the texture pattern helps to clean teeth, fresh breath and healthy gums, and promote dental health.
How to use it?
Just stick it to the wall where you will bathe your pet and add some eatables pastes, like peanut butter. The dog will start eating, and you will shower him without any difficulty. Isn't that simple?
Product Includes:
1* Dog Lick Pad