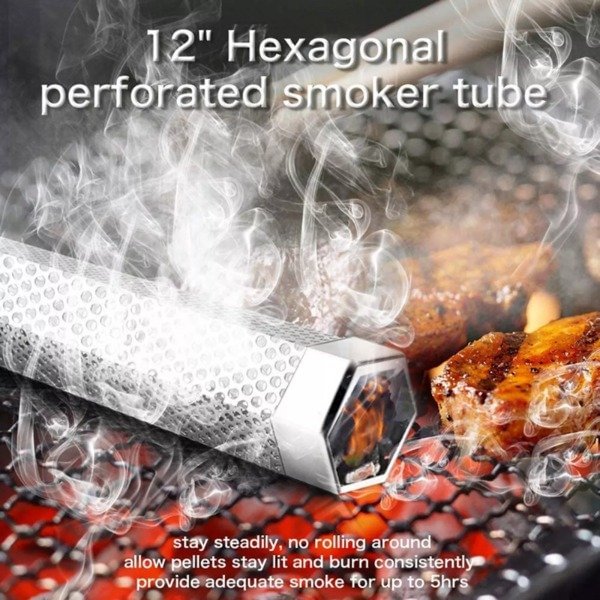 Looking for an easy and effective way to smoke your food?
BILLOWING SMOKE AND BIG CAPACITY: The pellet smoker tube has massive density diffusion holes on its body. So the smoker tube can let air come in, diffusing smoke efficiently and evenly to your food. The perforated design and square shape of the tube smoker allow the pellets to stay lit the best and fully burn to provide constant smoke. With a length of 12 inches large capacity, the wood pellets smoker tube is capable of holding enough pellets and will produce an abundant quantity of smoke for up to 5hrs.
GREAT FLAVORS FOR HOT AND COLD SMOKING: This smoke tube can be used with various wood pellets such as cherry, hickory, mesquite, apple, and pecan to add to different tastes. The 12" tube smoker works with wood chips as well. You can mix these or stack them in the tube. This smoke tube is perfect for hot and cold smoking, adding wonderful smoking flavor to many types of food: meats, cheeses, veggies, nuts, bacon, chicken, salt, burger, steaks, pork, hot dogs, sausages, fruit, corn, and more!
WORKS WITH ALL GRILLS AND SMOKERS: The smoker tube is compatible with electric, gas, charcoal, pellet grills, and any type of grills of any size and shape. Just fill the barbeque smoker tube with wood pellets, lean the grill smoker tube against the inside wall, or put it in the middle or any position. The BBQ pellet smoker tube will release smoke. This bbq smoker tube turns your barbeque grill into a smoker without modification. The smoke generator is also designed to supplement smoke in a smoker.
IMPROVED DESIGN AND STAINLESS STEEL MATERIAL: Unlike the traditional circular smoker tube, the special square smoker tube can stay steady and will not roll on the grill grate. The open cap at one end is for easy filling and lighting. A closed cap at the other end keeps pellets inside. The whole smoker tube is made of high-standard 304-grade stainless steel that is anti-rust and heat-resistant. With excellent workmanship, the smoker tube is very durable and will not be broken or bent after long-time use.
IDEAL GIFT CHOICE: The pellet smoker tube comes with a bonus of 2 S-shape hooks for hanging the smoker tube. All of these are packaged well in a box. You can take it anywhere for outdoor use. The portable smoker tube set is a great gift idea.
Specifications:

Color: Silver
Material: 304 stainless steel
Style: Hexagon design
Tube Size: Approx. 30.5 x 5.1 cm / 12.01 x 2.01″
Tong Size:9"
Brush length: 30.5 cm
Brush Hair Length: 20 cm
Hook Length: 13 cm
Hook Opening Diameter: 3 cm
Package Included:

1 x Pellet Smoker Tube for Any Grill
1 x Tung
1 x Brush
2 x Hook