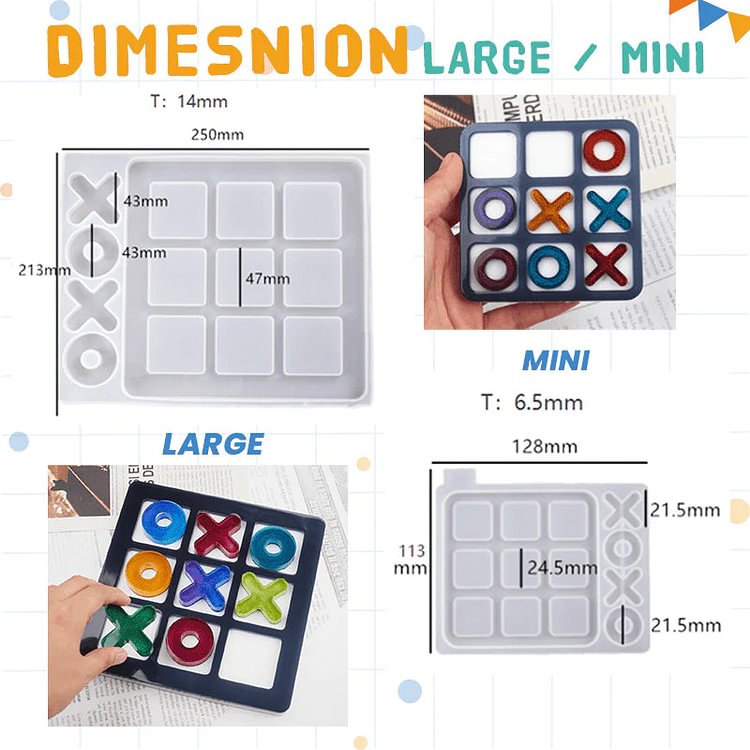 Add Effects to Your Casting Resin with Tic Tac Toe
Release agents are not required with any of our molds, however they may enhance the un-molding process making it much easier to work with and significantly extend the life of your mold.
How to use.
Mix and pour a casting resin into the mold cavities. You can add things like glitter, resin tints, glass chips or mica powders to your resin to create dynamic effects. After the resin has fully cured, simply peel the mold away from the resin casting and your done.
High-Quality Silicone & Easy to Demold: The molds are made of high-quality silicone, which is flexible, non-toxic, odorless, durable, and not easy to tear. The silicone molds can be used many times, durable.
Personal Customization: When DIY the silicone resin molds, you can add dried flowers, laser stickers, alcohol inks, pigments, mica powder, luminous powder, glitter, etc. according to your personal preferences. Also available with crystal quartz stone on it, which allows you to have a unique resin art.
Wide Application: The silicone molds are suitable for epoxy resin art, can store dominoes, jewelry, buttons, tarot cards, cosmetics, mini blocks, etc. It can also be used as a decorative box, gift box for family and friends on anniversary or birthday.
Specifications:
Material: silicone
Color:  clear
Size: Large [25cm x 21.3cm], Mini [12.8cm x 11.3cm]