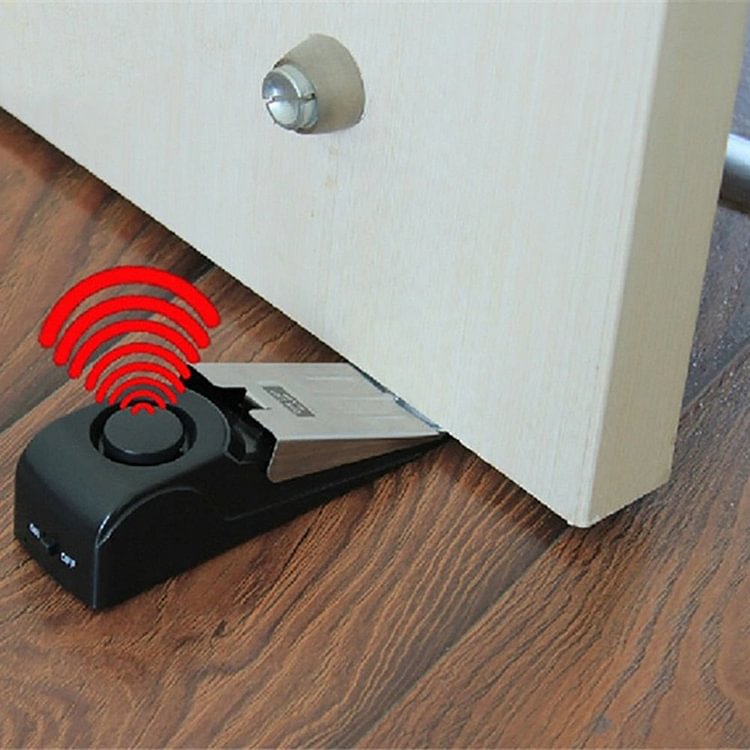 For Traveling Security System Wireless Wedge Shape Floor Metal Office Home Block Vibration Doorstop Door Seam Alarm
Features:
Wide range of uses: The door stop alarm can be used not only as a safety door stop, but also as a door stop. Its high-damping rubber bearings can prevent the door from sliding, prevent bad guys from breaking, and a protective alarm bracket. (It is recommended that the gap for the door exceeds 1/2 inch!)
Very loud doorbell: doorstop, 120 decibels, is "unbearable noise", really loud. Easily wake you up, notify neighbors and scare off intruders.
3 alarm levels: 3 alarm levels: high-medium-low sensitivity alarm songs for you to choose! The choice of door stop volume level depends on the distance you place the door blocker, and the height of the longer distance. The door stop alarm is powered by a 9V battery, and one can be used for one year under normal conditions. (Without battery)
Portable wedge-shaped door stop: The weight of each door alarm is about 0.2 kg, which is convenient to carry and is very suitable for travel. It is very suitable for bedrooms, hotels, apartments, dormitories, front doors, etc.; the stainless steel cover prevents wear and tear, and the perfect size makes it easy to travel Or business trip. Note: The gap between the bottom of the door and the floor should be 2/5 inches to 1-1/2 inches.
Practical door lock safety tools: A safety guard station 24 hours, especially at night. No need to worry about emergencies. Ensure that this doorstop alarm is safe and suitable for your home, making your life safer and more convenient.