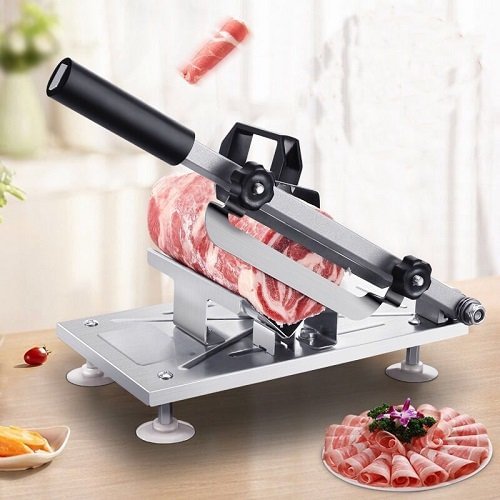 The One Piece of Equipment You Need to Make Perfect Meals! Slice the meat as thin as you want with this sharp-bladed Universal Slicer!
The Ultimate Meat Chef Slicer helps to efficiently slice frozen and thawed meat, such as beef, lamb, chicken, ham, and fish for a variety of purposes including making hotpot, sukiyaki, pizza topping, sandwiches, or into jerky for treats. It is made of high-quality stainless steel that can be easy to clean and enable for a long time to use.
About this item:
1. Multifunctional slicer: not only can cut frozen pork, frozen beef and frozen mutton, but also can cut cucumber, potato and lotus root slices. Note that it can not cut bones and meat with bones, and try not to cut too hard fruit. It's a great kitchen helper.

2. High quality material: the meat cutter is made of high quality stainless steel, waterproof, rust proof, very safe.
3. Adjustable cutting thickness: 0.3-8mm thickness adjustment range, only need to adjust the knob can be completed. In a clockwise direction, you can slice the meat thinly; in the counter clockwise direction, you can cut the meat into a little thicker.

4. Safety and smart: strong anti-skid feet, when you cut meat, the machine will not move. In this way, you can operate more conveniently. And it takes less effort.
Specification:
Dimensions: 460mm*160mm*120mm (18.1'' * 6.3'' * 4.7'')
Blade Length: 170mm (6.7'') Weight: 2.3kg
PACKAGE INCLUDED: 1 x Ultimate Meat Chef Slicer