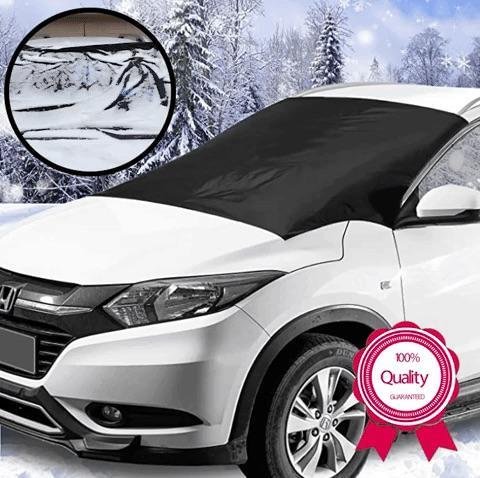 Attention: Limited Stock Available. We will be sold out soon. To guarantee quick delivery, order today!

❄️Winter, you need it 😎 Say Goodbye to those hard days trying to get in your car and drive. No more frozen hands early in the morning!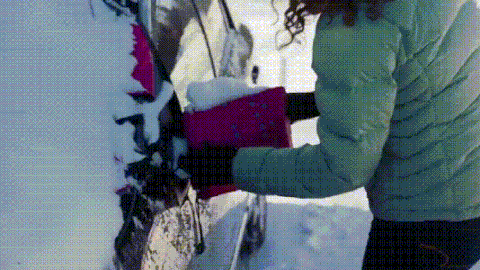 Are you tired of waking up every morning to a frosty windshield? Our windshield cover traps heat to prevent the unwanted winter buildup so you will no longer need to scrape away the ice and snow, saving you precious time and improving visibility while on the road.
Full Protection Windshield Cover is a double-sided windscreen cover that you can use on hot bright sunny days as well as on snowy winter days. In the winter it is as easy as placing this Full Protection Windshield Cover to your car's windscreen with suction cups and then shaking it off to remove snow. No more windscreen scratching, no more hand freezing. Protect your car from theft by connecting it to the belt.
How it makes a difference on snowing day.
How it makes difference on sunny day.
Say Goodbye
 to those hard days trying to get in your car and drive.
No more frozen or burning hands. 
Stop
 cleaning the car windshield in the winter while in the summer you will be able to hold the steering wheel easily without the discomfort of burning. 
Full Protection Windshield Cover is perfect
for all seasons
. The black side of the cover facing out gives protection from snow and the silver side facing out gives protection from extreme sunlight which reflects
the incoming sunshine protecting the car and its interior from overheating.
Save your time and effort for more valuable things
. Less difficulty in daily life gives you a pleasant feeling.
What are you waiting for? Get your own Full Protection Windshield Cover now!
If you are worried about the back glass, then you need to buy at least two!!!
Spread the cover on your car windscreen,

Let the magnetic edge firmly cover the car wipers area.

Secure the flaps with the door closed.

Secure it by attaching the bungee straps to your wheels.
Product size: 210cm*145cm*125cm (length * width *
high
), universal models
There are 6 magnets on each product that are attached to the car's outer casing.
Instant mirror visibility

Stretches over regular size mirrors, suitable for pickups

Pull string and security tab against theft

Suitable for all small, medium, and large vehicles

High quality and scratch-resistant material
THE WINTER ACCESSORY THAT WILL SAVE YOU HOURS!
Keep your side view mirrors free from ice, snow, frost, birds, dust. Instant mirror visibility, Removes in seconds, Pull the string, and security tab against theft. No longer break your nails or credit cards scraping ice off your tiny mirrors. Each mitt comes with a security tab you can place inside to door to prevent theft. Features ▪ Water Proof ▪ Machine Washable ▪ Quick and easy installation.