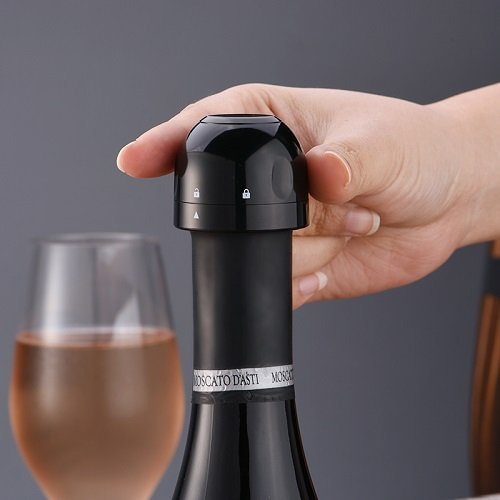 Seal your champagne, wine, beer and soda bottles with this reusable bottle cap stopper.
The taste of flat champagne or wine that lost its bouquet after a few days in a badly sealed bottle - does it sound familiar? Avoid it from now on. Keep your beverages fresh and fizzy maintaining their flavour with this bottle cap stopper. It's designed to seal the bottles for hours or even days. No more struggling with corks.

Thanks to its design, this cap stopper is easy to use. You just rotate the champagne stopper's upper part to unlock it. The next step is to apply the item onto the bottle and press it tightly. Then you just have to rotate the stopper back to the original setting. It's that simple!
Made of durable materials, this bottle cap stopper is designed to serve you for a long time. It's reusable and will be a perfect accessory in your kitchen. Thanks to its versatile design, it fits multiple types of bottles. It should fit most standard wine, beer, champagne and soda bottles. It also adapts to larger bottle styles. The three little grooves built in the upper part of the stopper will make it easier to rotate the accessory and apply force.
Another great feature of the bottle cap stopper is its lightweight and compact design. You can easily store it away in a kitchen cupboard or drawer when you don't use it as it doesn't take much space. It's a good idea to take it with you to a party in your family or friend's house as it can help keep beverages fresh and fizzy for a longer period of time. Keep it clean with ease thanks to its washable design. Just use warm water with soap to remove residues of champagne or wine so that it's ready to be used again.
Made of high-quality materials, this bottle cap stopper is safe to use. It's really important as it comes into contact with different types of alcohol and other beverages. It's worth mentioning that the internal sealing parts of the bottle cap stopper are made of food-grade silicone. It's non-toxic and safe. The round-shaped stopper shell is made of ABS material. It's durable, crack-resistant and it will serve you for a long time.
If you're looking for an original and useful gift idea for your family or friends, this bottle cap stopper is a perfect choice. It's inexpensive, so you won't have to spend too much on the gift. There are two stoppers in the set - one for wine and the other one for universal bottles. And the fact is that few people have this gadget at home, so this useful gift will be a great surprise. It will serve your friends on many occasions, keeping their drinks fresh. Moreover, every time they open a bottle of champagne or wine, they will think warmly of you!
Technical characteristics :
Material: ABS + food grade silicone

Colour: Black

Item size: 3.9 cm x 3.2 cm/4 cm x 3.9 cm approx
1 x Wine bottle stopper
1 x Universal bottle stopper