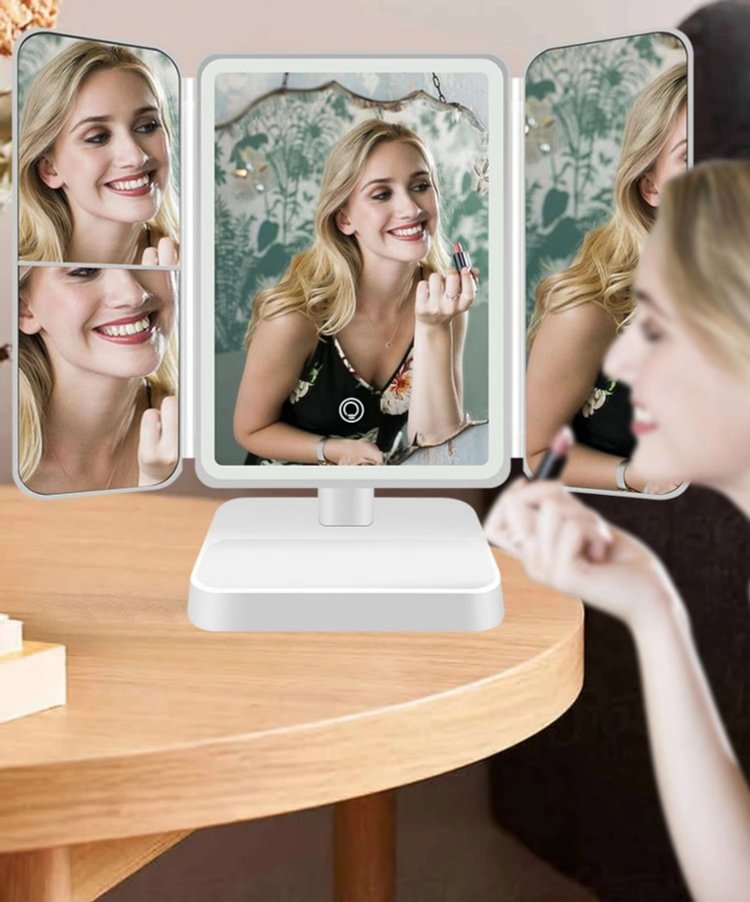 Our best lighted makeup mirror provides illumination to help you detail your face more effectively. Our mirror comes with high-quality LED lights that provide light for any condition, so you can see the contours of your face from all angles.
The lights on this makeup mirror are easy to operate—simply touch the button and the light turns on or off. You can also adjust the brightness level by holding down the button for a few seconds.
You don't have to worry about running out of power, these makeup mirror comes with both a USB power supply and four AAAA batteries. This makes the makeup mirror a more versatile tool for your beauty collection than other models.
Advanced 72 LED Lights: The lighted makeup mirror is equipped with upgraded 72 LED, which can adjust the light brightness as your needs for any situation whatever daytime, evening, home, or office, the light of the led vanity mirror is natural and soft, bright but not dazzling, protect your eyes and avoid creating glare.

1X/2X/3X Magnification: 3 panels magnifying modes and wide-angle viewing help you to see clearly your face and make an ideal makeup with this light mirror. The difference from others, it's helpful for detailed hair, eyeliner, mascara, eyebrows, and contact lenses, it's also can be as a portable travel makeup mirror

180 & 90 Degree Rotation: This folding makeup mirror allows you to adjust the view of the angle freely and comfortably. Also, its' detachable and tri-fold design can be opened or closed as your wish, it's a great maintenance to protect the LED makeup mirror from dust and scratch.
Dual Power Supply: led mirror for makeup is powered by a Type C cable or AAAA batteries, it's convenient to use this makeup vanity mirror with lights wherever. Also noted is that this vanity mirror can't store power itself, you need to plug the lighted vanity mirror in or install batteries while use.

Best Gift for Your Beloveds: This lighted vanity mirror, with a keepsake box, is perfect for your wife, fiancée, girlfriend, mom, grandmother, colleague, makeup lovers, etc. as a gift of anniversary, wedding, engagement, birthday, celebration.
Package Includes:
1*Tri-Fold LED Makeup Mirror