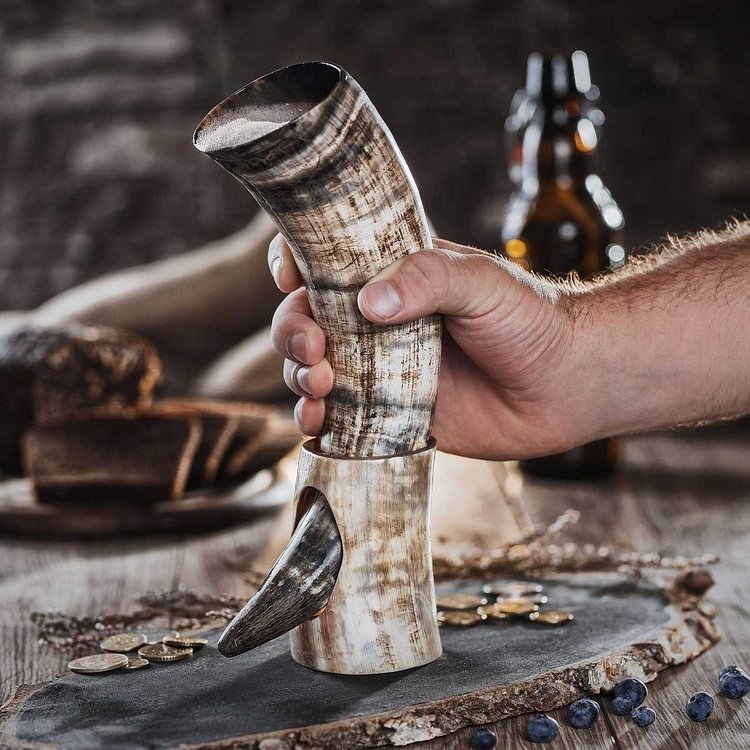 Each horn comes with a matching base stand. You're going to love the way it looks
🍻 PREMIUM BUNDLE - Now get a FREE adjustable Viking bracelet when you purchase of our flagship 12" drinking horn with horn stand (The Original)! Every Original horn includes one bracelet. Each unisex Norse jewelry piece is made from durable, yet bendable zinc alloy and makes for the perfect Viking accessory.
🍻 DRINK FROM GENUINE OX HORN - Every Viking horn is made of authentic, ethically sourced ox horn (Certified Livestock Certificate), painstakingly selected for appearance, durability, color pattern and shape. Each Norse inspired mead horn is unique in shape & color & comes packaged in a medieval burlap sack. It's time that you chose a drinking vessel as interesting as you!
🍻 PREMIUM MATERIALS - It all starts with the animals from which our horns are harvested. We only select the finest livestock to provide our drinking horns. Even then, eight out of ten horns do not pass our rigorous quality inspections.
🍻 HANDCRAFTED WITH CARE - The secret ingredient of a finely crafted mead horn is the care that is put into the construction. Our artisans have been fashioning drinking horns for generations. Each of our mead horns are hand-selected, hand-cut and hand-polished to near-perfection (we say "near" because as handmade items, no horn is entirely perfect). Finally, each stand is crafted and custom fitted to it's horn, ensuring that you can display your horn proudly!
🍻 CHOOSE YOUR STYLE - Choose between multiple sizes (Large ≈ 12-Inches, 12 oz / X-Large ≈ 20-Inches, 26 oz), finishes (polished or unpolished) and multiple stand/holster styles. Note, however, that horn size and color varies. These are 100% natural items!
HOW IT'S MADE
The Viking Drinking Horn Mug is, of course, fashioned from real ox and cow horn, ethically sourced from produce farms in which the animals are harvested for their meat. Horns are never taken from live animals and the animals are NEVER harmed. Each horn is cut, cored, hand polished and sealed with food-safe lacquer on it's interior. Lastly, the horn is adorned with a solid brass rim, making this a drinking vessel fit for a true Jarl. Each horn is truly a unique piece of Viking lore.
DRINKING FROM YOUR HORN
The Viking Drinking Horn Mug is 100% food safe, as its interior is coated with a pure lacquer that's also used to seal salad bowls and spoons. Drink beer, mead, ale, liquor or any other cold beverage with confidence. However, do not drink extremely hot beverages out of your tankard, as horns can warp after repeated exposure to extreme heat. This also means you should not place the horn in your dishwasher. Besides, the Norsemen didn't have fancy dishwashing machines! Care for your horn like the Norse treasure that it is.
After purchase, we will email you specific instructions on how to care for your traditional Viking cup.
Now raise your horns in honor of the old Norsemen! Raise your horns in remembrance of a time when life was simple and victory was sealed in blood! 
Specification:
Capacity: 8-12 oz

Product Dimensions: 11.38 x 4.53 x 3.19 inches

Weight:

 

8.8 ounces

Material: 100 % Ox Horn
Safe for Cold and Hot drinks
Safe for Dishwashing
Durable and made for long-term use


We only use horns from ox and buffalo raised for their meat, helping us reduce waste