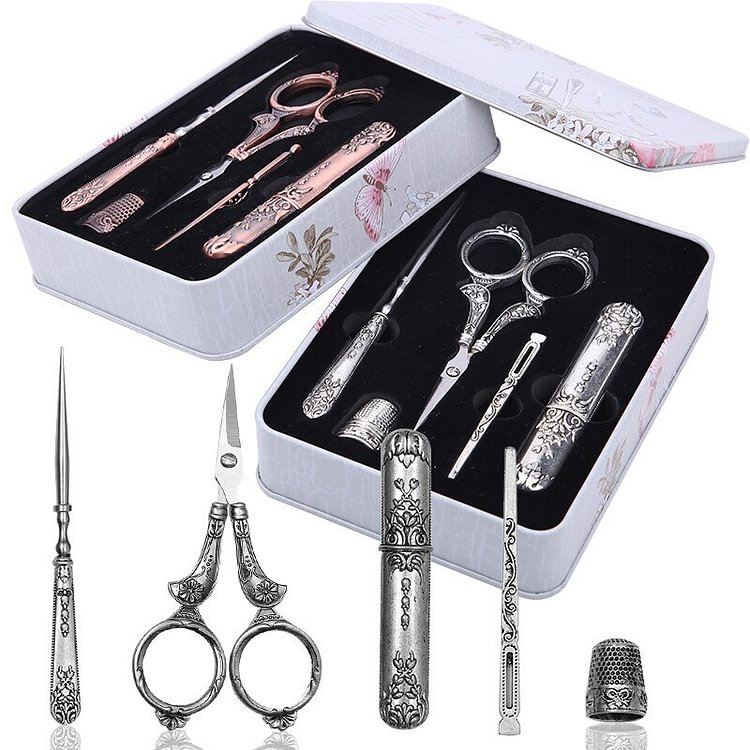 Fall in Love with Sewing Again
[VINTAGE SEWING SET]: This is a sophisticated and vintage sewing supplies box, which has the elegant and delicate elements of the Victorian embroidery kit. Two colors are available. Silver and rose gold sewing tools have their own advantages. We also designed a solid and durable storage box, and we can put these sewing tools perfectly in simple storage to prevent them from being easily damaged. Throughout the trip, portable storage boxes can be carried very conveniently.
[PRACTICAL SEWING TOOLS]: This is a small and practical scissors kit, which contains 6 sewing tools, namely scissors, thimbles, needles, awls, threads, and 16 stitches. For embroidery, cross needles, and beads retro scissors are sharp and easy to use. The sharp blade and dots allow you to easily trim in a narrow and tiny place. This is very suitable for embroidery, creative sewing, needle tip, diagonal cloth, sewing, and handmade.
[GOOD GIFTING IDEA]: If you are looking for a thoughtful gift for your special friend or family, or you want to send the housewife a practical project then grab this sewing tools set. Would make a nice gift for someone special or a collector.
Material: Metal
Weight: 196g
Size: 5.9''*3.54''*1.81''(15cm*9cm*3cm)
Processing Time: 4 days