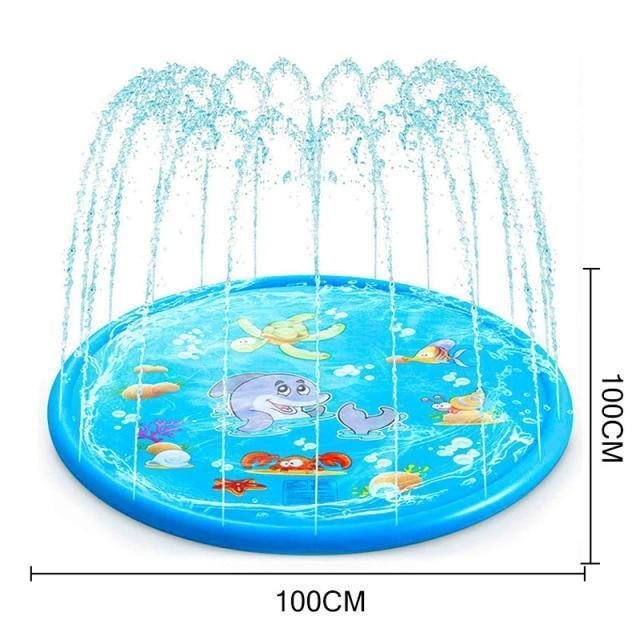 Splash pad for Kids - Kids, like birds, enjoy playing in the water on a hot summer day! Set this outdoor summer sprinkler pad in your yard/backyard that will cool down your young ones while stimulating their minds with excitement and fun! Saves you the money to buy a giant inflatable pool! All you have to do is hook the sprinkler to your backyard garden water hose and place it on the lawn/grassland and your kids are ready to go.
Bigger 68" Splash Play Mat Toy- This water sprinkler for kids it's 68" in diameter, it allows up to 8 age from 1-12-year-old kids to play simultaneously for tremendous fun! also can be used as your toddlers' & kids' mini swimming pool. The ring around the outside has tiny holes where the water spouts out when connected with a water hose. 
Safe Backyard Splash Pad – The Sprinkler Splash Pad is designed with a shallow water depth to keep your baby safe from drowning, made of eco-friendly PVC and it is BPA and phthalates free. Place this outdoor sprinkler on your yard/garden's grassland for a minimum slippery risk although it's anti-slip on a smooth floor.
Growing Through Play �This splash pad inflatable for kids gives your baby both learning and playing atmosphere in the play. In the sprinkler pad world with lovely cartoon animals through intimate connection and interaction with your kids, the curious mind of your kids to learn more about nature and parent-child relationships will promote to a new level.
Adjustable Water Height - The low water pressure spouts a water column in 8-35 Inches with its spraying direction towards the inner side. The big water pressure sets on, the higher of the waterspout will be with its spraying direction slightly shifting towards the outside.
Easy To Set Up