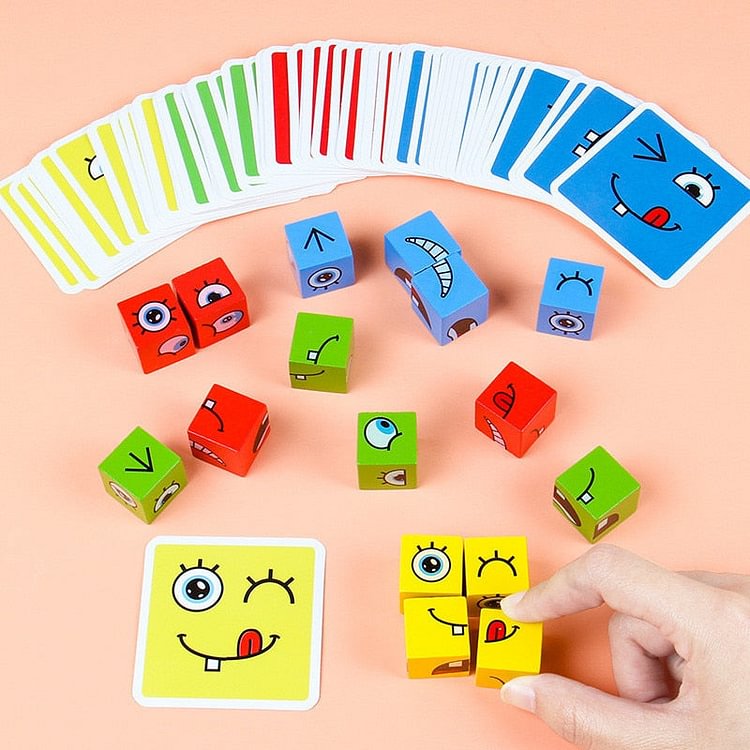 Have Amazing Interactively Play Anywhere And Anytime
This puzzle building cubes has 64 cards with colorful expressions: happy, sad, laughing, crying, fear, etc. Mixing all the emoji cards and place them on the table and each child chooses a color wooden block puzzles to participate in the game.
Require eagle's insight and careful thinking.
The joy of the game improves children's cognition, concentration, hand-eye coordination,increasing children's observation, logical thinking, promoting sensory development.Face changing magic cube building blocks + card game specially designed for children. It is a board game with enhanced participation suitable for 1-4 players.
Children can play with their family or friends increase children's social skills and experience the happy time of entertainment in the social.
Hurry up and have an inspiring battle with the children!
The preschool toys are made of solid wood water-based paint, which is mild in color, non-irritating and has a foil on the surface, which is not easy to fade. The 64 game cards of magic cube are designed with rounded corners, which are not easy to bend and the surface is covered with a film, which is durable and durable. The iron box storage, thoughtful design, avoiding loss and easy to carry.
Features:
1. Magic box board game, develop intelligence and cultivate interest;
2. Intellectual challenge, activate your imagination and creativity;
3. For children, they can develop their brain and logical thinking skills;
4. Exquisite grinding technology, careful treatment of edges and corners, round and smooth, do not hurt hands!
5. The toy box and cards are cartoonish and childish, perfect as children's gifts.
Specifications:
Material: wood + cardboard
size:Iron box: 11 x 11 x 4.5 cm
Card: 5 x 5 cm
Small blocks: 2.5 x 2.5 x 2.5 cm