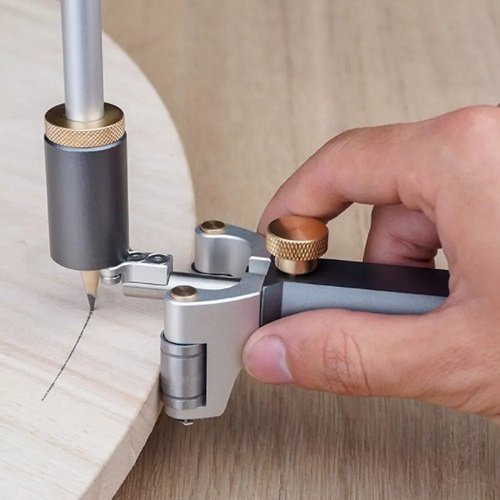 Have you ever tried cutting a piece of wood to achieve a particular shape or size you desire? If you have, then you have likely had experiences where the final product is or looks to be in a different shape or size, different from your original intent. You may have most likely cut the wood according to your measurements, so the problem will most likely lie with the precision of those measurements.

If you're looking to improve the precision of your measurements and, by extension, the quality of your work as a whole, this woodworking measuring tool is exactly what you need. This tool has a design that ensures that all your measurements, including curves, will be accurate and precise.
Curves are hard to scribe with any kind of accuracy. So it's obvious just how invaluable this woodworking scribing tool is. But as if that weren't enough, this woodworking scribing tool has a dual function design.

What this means is that in addition to the fact that you can use this tool to measure accurately and draw perfect curves, you can also use it to measure and draw perfectly accurate parallel or straight lines! This means you won't have to go looking for another tool to help your precision in drawing straight lines. With this tool, you have everything you need!
It is important that all your tools and equipment should have the best quality build possible. However, it is arguably even more important that the tools you use in taking measurements have this quality build. This is because they directly impact the build quality of other materials, so any reduction in quality in your measurements will directly impact the quality of work you produce.

This is why this woodworking measuring tool is made with high-quality aluminium alloy. This makes sure it won't wear easily, and you will be able to safely and comfortably use it for long periods.
One great advantage to owning and using this woodworking scribing tool is that it's highly versatile. This versatility means that you can use this scribing tool to hold pens of different sizes. But that's not all; you can also use this scribing tool on different types of materials such as wood, iron, ceramic, acrylic, and so on! This basically means that irrespective of the kind of material you're working on, you will always have access to precise measurements.
It is always an added advantage when a useful and versatile tool is also easy to use. This is exactly the case with this woodworking measuring device. To use it, follow the steps below:
- Adjust the scribing tool to the length you want.
- Fix your pencil in the clamp space available and tighten the clamp till your pen is securely held.
- Then, simply draw!
Easy, right?